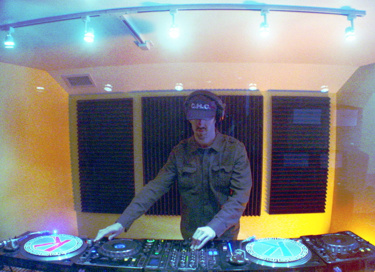 David fell in love with music at a young age and bought his first tape (Devo "Freedom Of Choice") at the age of 10. In 1985 he moved to Chicago during the Golden Era of Chicago House and was immediately hooked on House. By the end of the 80's David was also heavily into Hip-House, Techno, and Industrial, and in 1991 got his DJ start on his college radio station, KCSU 90.5 FM Fort Collins Colorado, playing anything from House and Techno to Ambient, Industrial, Disco, Funk, and Metal.
In the early 90's David also got into the then rapidly evolving styles of Hardcore Techno, Breaks, and Jungle – finding in them the same level of innovation that had made House a global sensation. Staying current on all these styles was not easy, with the innovation in electronic music in the 80's and early 90's undoubtedly eclipsing that of any other time. This was before the existence of the internet or the use of digital media by underground DJs, when underground dance music DJs and producers were an elite few, and DJ record stores were a luxury found only in major cities.
After getting a Bachelor of Science Degree in Electrical Engineering with Math Minor in 1993, David moved to San Diego California, and throughout '94 and '95 would make monthly trips to LA record stores such as Beat Non Stop, DMC, Street Sounds, and Dr. Freeclouds. Up until about 1994 the scene had remained underground, raves were events produced by artists, techno shamen, and other atmospheric thinkers, and were attended by all types of people – not just "ravers". Quality was emphasized in every aspect of events. By the mid-90's however the scene had become overrun by shady promoters, subpar DJs, bad drugs and watered-down music. It had become commercialized and exploited by people who didn't fundamentally understand its origins and didn't care about quality. The essence was still there but had gone deeper underground, and various technological innovations were advancing the state of the art in other ways.
David produced events from 1994-2015 at numerous venues throughout San Diego, doing live ambient and techno soundtracks to anime films at a weekly coffeehouse event and small raves at indoor and outdoor locations throughout SD in 1994, to larger events at The Floating Palace in the San Diego Bay and an event at the San Diego Sports Arena in 1996, hosted Spiral Tribe UK at the World Beat Center on New Year's Eve 1997, and in 2015 hosted Tony Humphries, Derrick May & Terry Mullan at the World Beat Center in Balboa Park. David also founded Sunsonic Sound System in 1994, opened Elevator Records in downtown San Diego with 4 partners in 1995, leased a warehouse from 1996 to 1997 doing weekly afterhours and events, and opened San Diego's United Records & Sound in 1999. David has DJed 100s of clubs and events throughout California, Colorado, New York, Mexico, Colombia, and Germany.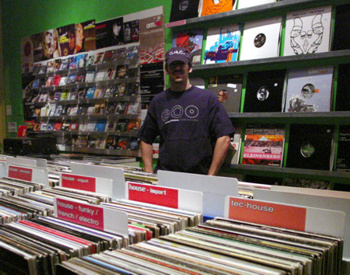 In the early 2000's David got into production and started the C.H.C. Recordings and Housejamz.com labels. David closed United Records & Sound in 2017, now works in various areas of Engineering (Audio, Software, Electrical), and he and his wife also own an organic farm & native habitat nature preserve property
Mesa Farms
next to Mission Trails Regional Park, San Diego's largest mountainous park.
David is a versatile DJ who plays a wide range of underground styles... House, Deep House, Classic Chicago House, Old-School House, Disco, Hip-House, Electro, Fidget, Acid House, Old-School Techno, Old-School Jungle, Breaks, Drum n Bass, Future Jazz, Ambient, & other fresh styles. David has always been 100% about the music, never having the slightest concern for money, fame, or popularity contests. He is known for his ability to make people dance like few other DJs are capable. No matter the genre, his style is always fresh, innovative, funky, and soulful. He plays tracks that most have never heard - showcasing true underground tracks from the world's most innovative DJs and producers.
David's emphasis on quality is evident in his work as a sound system provider in San Diego from 1994 through 2018. With his electrical engineering background he was well known in the early and mid-90's for his custom audio engineering talents, building custom speakers and mixers and revamping existing speakers with minimal-phase crossover electronics optimized for maximum transient-response ie. purcussive impact. In the early days he had only a small sound system of 4 Cerwin-Vega L36 and 2 custom 18" full-range cabinets + 2 modified double 15" full-range cabinets but it was known as one of the cleanest dance music sound systems in the city. In 2003 David upgraded to an audiophile-grade 140dB Nexo Alpha system used at over 100 events from 2003-2015, and in 2015 he upgraded to a Meyer Sound Concert-Series system, well known as the world's cleanest pro sound brand. In parallel David managed 2 small recording studios and developed expertise in recording and production over 20+ years. David's technical expertise with dance music sound systems is simply unsurpassed, further ensuring his music always comes through with optimal clarity.
Colorado State University '89 - '93
B.S. Electrical Engineering Degree,
Minor in Mathematics
DJ, KCSU 90.5 FM '91 - '93
Moved to San Diego, CA in '93
Founder, Sunsonic Sound System '94 - '18
San Diego's top dance music sound system provider
Partner, Evolution Tribe Productions '95 - '96
Produced events at venues including the San Diego Sports Arena,
The World Beat Center, and The Floating Palace in the San Diego Bay
Founder, Partner, Elevator Records '95 - '99
Senior Software Engineer, Quake Global Inc. '97 - '10
Owner, United Records & Sound '99 - '17
Chief Technology Officer, Field Intelligence Inc. '11 - pres.